I'm having problems with my Copy Cad setup. Everything is coming out blotchy and strange looking (see photo below). I tried plating a water pump pulley off of my '41 Buick, which is about 120 square inches. The part was sandblasted in my cabinet, wiped with acetone, baked in an oven for 20 minutes @ 450 degrees, then re-wiped with acetone before plating. I added 2 tsp. of brightener to the solution.
I dialed in 3 amps on my rectifier (120 x 0.025), turned on my agitator, and let it plate for about 20 minutes. I pulled it out and let it dry. Here is my result: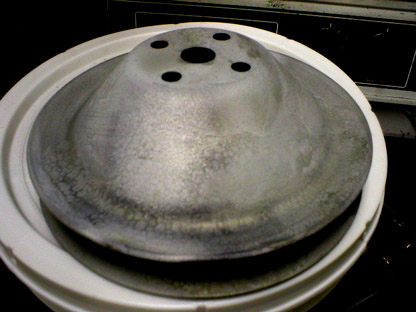 What the heck am I doing wrong?!?