I'm driving myself nuts trying to polish some stainless trim. I've tried all sorts of methods, compounds, sanding etc. I ordered compounds and wheels from Caswell and this is by far the best I've done. But I still get a haze that is cut in by the Sisal wheel.
Here is my procedure on scratched parts. I start with a 6 inch DA wet sander. and work through these grits.
220
320
400
600
800
1000
1200
1500
Before moving from one grit to another I can tilt the sander and get the sanding lines all going the same direction. By changing directions between grits it allows me to see if I have gotten all the previous grits scratches out.
After 1500 I move on to the wheels.
My buffer is a 3/4 horse 3450 RPM machine bolted to the floor. I'm using 8inch Caswell wheels. Each of my compounds is stored in a zip lock bag with its wheel, my gloves for that compound and any rags for that compound. No cross contamination.
I start with a Sisal wheel and Black emery to cut the sanding scratches. Works good but the Sisal seems to be cutting a line in the direction I polish.
It looks like this after I've cut and colored with the Sisal.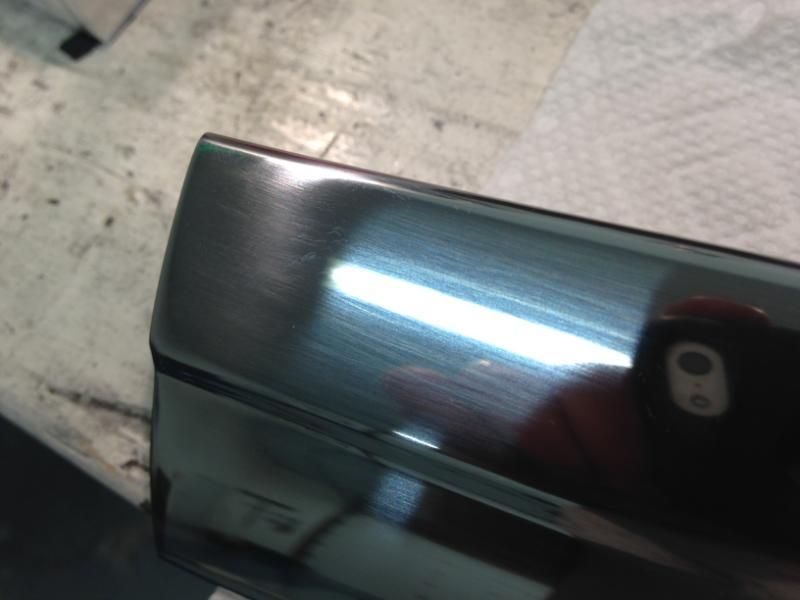 Next I use Black Emery on a spiral sewn wheel. Cut and color. It lessens the line but doesn't remove it.
Then on to Green on a Spiral sewn wheel cut and color.
The part looks great until I hit a certain angle in the light.
Looks good looking straight on or in full sun.